Boston as currently constructed is one of the best rosters in all of basketball. This team is ridiculously deep and should do nothing during the free agency period with the exception of trying to retain Marcus Smart and Aron Baynes. Because of the litany of assets the Celtics have they should always be a target for teams in regards to trades. They potentially have 4 first-round picks next year and all could be in the lottery. There are a lot of talented and intriguing pieces such as Jaylen Brown, Jayson Tatum, and Terry Rozier. But what's the point of blowing up your core for one guy who will more than likely bolt after the season ends?
There is no point.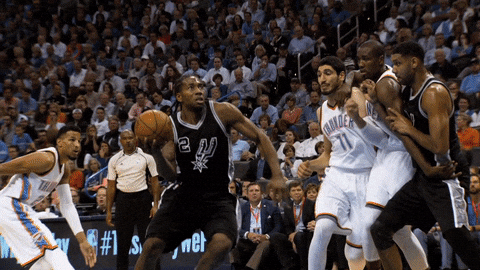 While Kawhi is a top-3 player when healthy, he has durability concerns and is pre-occupied with playing in LA in the near future. The Celtics have a player with Kawhi potential in Jaylen Brown, who has reportedly become the primary target for the Spurs. Jaylen, like Kawhi, was considered an athletic prospect whose defense was ahead of their offense and just like Kawhi, Jaylen has a strong work ethic which was evident in the leap that both players made in their second years. While Jaylen averaged more points this is in lieu of Gordon's injury. Otherwise they would've been around the same. Boston is well away of what they have in Jaylen and he is well on his way into becoming a star two-way player.
Jayson Tatum should be an untouchable asset and Boston would probably only give him up for Anthony Davis, but that isn't happening.  He has all the tools to become the next superstar player in the league and if he stays healthy, it isn't out of the realm of possibility that he averages 20pts per game next season.  San Antonio would love to get their hands on Tatum as his polished game would help ease the loss of Kawhi, but even Danny Ainge wouldn't make this deal. Just last year the Celtics were in the mix for Paul George and Jimmy Butler and right before the fans eyes there are two young talents who are developing into those types of players.
If anything, Boston could move Kyrie and a draft pick or two for Kawhi.  This would be fair in my opinion because if Kyrie's durability concerns and contract questions. But once again, why would you?  There was a visible feeling out process last year because of the roster turnover and imagine how good Boston could be with everyone returning for a potential championship run.  A starting 5 of Kyrie, Gordon, Jaylen, Jayson, and Al is easily one of the strongest in the NBA. Couple that with a bench that features Scary Terry, Marcus Morris, Daniel Theis, Robert Williams and potentially the return of Marcus Smart and Aron Baynes, you have a roster that is deep, talented, and versatile.
For the first time in years Boston does not have to make a move. They will always be mentioned in trade rumors because of the staggering amount of assets they have, but unless they are receiving assets in equal value, there is no point.  I say let the Lakers gut their roster to get their Big 3.  If the Lakers are back to being great it's good for basketball.  The same goes for Boston. Who knows, maybe next year will be the Celtics vs. Lakers for the NBA title. That always makes for great television. Two storied franchises with a litany of stars on the biggest stage?
That's must-see TV.