Rookies shouldn't be this talented.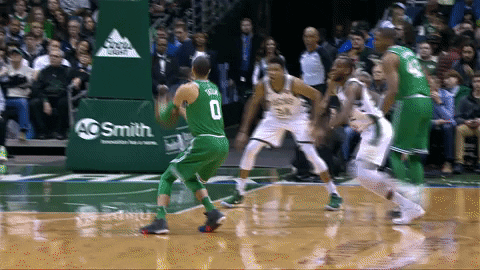 I could end this post on that note alone and it should suffice for what I'm about to write, but honestly, watching Jayson Tatum in the playoffs has been eye-opening.  This isn't a knock on Ben Simmons, Donovan Mitchell, Kyle Kuzma or this great rookie class.  But let's be honest with ourselves, there is a 20 year old rookie keeping the Boston Celtics relevant during these 2018 playoffs.  He has been consistent whether it's home or on the road and when it's a big game, he has shown up.
Before, I thought his ceiling was Paul George and his floor was Rudy Gay.  But now, I don't know, because he's so far advanced offensively that he makes the game look easy.  What's funny, is that Tatum was never expected to contribute this much because of the acquisition of Gordon Hayward.  Now I am not going to say something like Tatum is better than Hayward now, but in a year, he just might be the best player on the Celtics.  It isn't just his offense, it's his defense.  He rarely makes the wrong read and his length allows him to harass shooters and can force opponents to make errant passes.  The biggest knock on Tatum coming out of Duke was that he wasn't a great defensive player, from what I've seen in the regular season and playoffs, he has the potential to become a fantastic two-way player.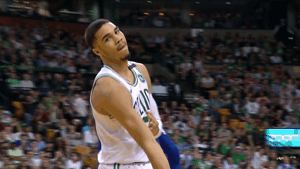 I have watched for years as Danny Ainge has reached for players in the draft in the hopes that they can be developed by the Coaching staff.  He was gifted Jayson Tatum by the 76ers and the Celtics are all better for it.  It's not to say that Markelle Fultz won't become a great player, but who in the world is doubting that Tatum won't be the most accomplished out of this draft class?  He doesn't shrink in the big moments, he's efficient, smooth, and poised.  Go on twitter and all you'll see when Tatum is mentioned is that he's doing this as a 20 year old.  But for those scouts that have followed Tatum throughout his time at High School, this was probably a foreseeable outcome.  He was being scouted at 14 years old and now, it feels like it was for obvious reasons.
What blows my mind is that in a loaded Draft class filled with future stars, Tatum really stands out.  I feel that if Donovan Mitchell was Tatum's height, there would be a conversation to be had about who the best player would be, because in all honestly, Mitchell is going to be a future star who will be the face of the Jazz for the foreseeable future. But it has been shown in this league that guards are not the most valuable position.  Forward's like Tatum do not come around often.  He's a combination of Melo, Kobe, and Paul George and it shows in his game.  That lightning quick first step reminds me of a young Carmelo out of Syracuse.  It throws opponents off-balance and Tatum is able to either take them off the dribble or pull-up for a jump-shot.  His ability to work the post reminds me of Kobe when he would work his magic and harass opponents.  It has already paid dividends during the regular season and also in the playoffs.  Tatum's defensive tenacity and high-motor are Paul George-esque.  When he has it all come together, like he did in Game 5 of the Conference Finals, it's a scary sight for opposing teams.
I am not saying that Jayson Tatum does not have flaws.  He can be tentative and passive and this will throw him out of rhythm.  But let's be clear, when he plays with aggression, Tatum looks like a 5-year vet because of just how in control he is of his game.  In these playoffs, opposing teams have seen a far more aggressive Tatum.  He is starting to realize that he can get by almost damn-near everyone he plays.  It doesn't matter who it is either because he's beaten great defenders like Giannis and Robert Covington off the dribble, with the latter being selected for All-Defense First-Team.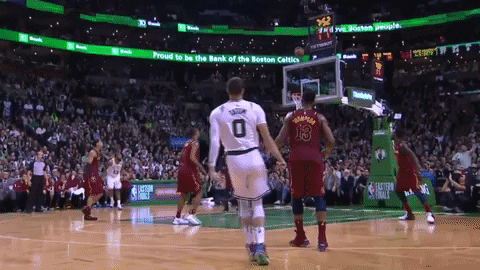 Boston would be foolish to ever put him on the trade block.  Jayson Tatum will be a building block for the Franchise, a young, confident, and mature player that will ensure the Celtics stay relevant for years.  Danny Ainge has been fleecing other GM's for years and his biggest prize is not Kyrie Irving, its Jayson Tatum.
The future is bright.