On paper, the Oklahoma City Thunder looked like a force to be reckoned with.  The reigning MVP in Russell Westbrook, a two-way star in Paul George, and an offensive star in Carmelo Anthony, what could go wrong?  Well…a lot actually, as this team is on the verge of being knocked out of the first-round by a Utah Jazz team that featured zero All-Stars.  That isn't to say that they are devoid of talent, they feature a Defensive Player of the Year candidate alongside one of the best rookies in basketball.  But that alone should not be enough to trump the talent of the Thunder.
So why are they struggling?
There are a myriad of reasons as to why the Thunder have failed to meet expectations.  Russell Westbrook, while a phenomenal talent, isn't the best shot-maker, defender, or decision maker and these flaws have been on display throughout the Thunder's mediocre season.  He is a fiery competitor and an amazing athlete, but there are countless times where Westbrook has shot his team out of a game.  It's never a good sign when damn near 40% of your offense is produced off of drives to the basket.  Westbrook struggles mightily from the three-point line and it feels that when the team is struggling, his patience wanes and this ultimately leads to him throwing up an ill-advised three.  He is approaching the latter half of his career and if there are no signs of improvement soon, Westbrook may end up being a Hall of Famer who never fully reached his potential.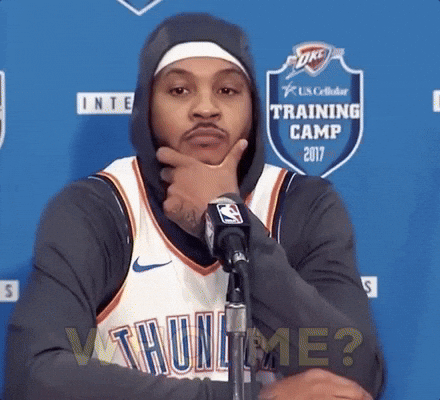 One of the saddest things to see in any sport is the decline of a great player.  Carmelo Anthony, for example, is a shell of himself.  Volume scorers needs the ball in their hands to be effective.  While Melo's touches have seen a dip, there are two other All-Stars to contend with, he still sees the ball enough to get his shots up.  But regardless of where Melo gets the ball, it hasn't been pretty.  In iso, which used to be his bread and butter, he would breakdown the defender off the dribble and finish either with a quick pull-up or a layup.  It used to be magic watching him work in isolation.  Now, it looks like Melo is struggling to keep his legs under him.  His shot still looks great, but the lift isn't there anymore.  Coach Donovan has played Melo exclusively at the four position and while he is faster than your average Power Forward, he struggles to get position because they're all either his size or larger.  It doesn't help that in the beginning of the season, Melo scoffed at the notion of coming off the bench.  In retrospect, this would've been a great decision as Melo is more than talented enough to become a star sixth man and it would've been a massive boost to the bench of the Thunder.
Speaking of the bench unit, where are they?  They've been practically non-existent and the whole purpose of a second unit is to sustain the actions of the first.  It hasn't happened.  They aren't adept at knocking down shots, they don't defend at a high level, and the inconsistency has forced Coach Donovan to quickly return to one of his starters for some spark on offense.  The Thunder are already an uneven unit and they are even worse on the bench.  There isn't an offensive weapon in sight.  Raymond Felton has had moments but he doesn't get enough minutes to find a rhythm, Patrick Patterson has disappeared, Alex Abrines can't knockdown shots consistently as a specialist, and Jerami Grant, who might be their best bench player, is inconsistent even though he should be commended for having a high motor.  If the second unit can't provide balance, then the game plan need to be on-point.
Unfortunately, Coach Donovan's immense success at Florida has not translated into success with the Thunder.  He hasn't been able to successfully reign in the talent in front of him and create a cohesive, disciplined unit.  Right now, the Utah Jazz are playing like a more complete team.  They are the polar opposites of the Thunder who've allowed their emotions to get in the way of team success.  Coach Donovan has shown frustration with the lack of execution and while that fault falls squarely on the players, he needs to be more involved in holding players accountable.  In this first-round series alone, the big three have lost their cool and then made it their personal missions to get back at their respective matchups.  His lack of assertiveness has allowed his players to put the team in bad situations.  It's one of the contributing factors as to why the Utah Jazz are up 3-1.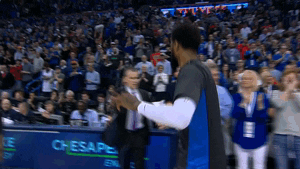 OKC serves as a reminder that while talent is important, unit cohesion is a requirement for success.  They were considered a super-team with 3 big marquee names, but on the court they were pedestrian.  It's frustrating to watch this team lose their composure time and time again when they should be routing teams with their collective abilities.  It speaks to the lack of leadership and accountability by both the players and coaches so fans shouldn't be surprised if All-Star Paul George heads for warmer shores.  They should've been a competitor, a dark horse with the talent to challenge Houston and Golden State.  Instead they are on the verge of losing to a Utah Jazz team whose chemistry has peaked at the right time.  It's beyond vexing and could be a contributing factor in Coach Donovan losing his job.  You shouldn't have access to this much talent and lose in the first round.  It shouldn't be accepted by the fans and it damn sure shouldn't be accepted by the team.
But the Thunder are the precipice of a devastating first-round exit.  And that is eye-opening.