TRAILER HYPE!
Hotly anticipated, Spider-Man is a PS4 exclusive that I for one, am incredibly excited for.  Spider-Man 2 was one of my favorite comic book games of all time and from the looks of different previews and trailers, this should easily be up to par.   Insomniac games has a helluva pedigree and are one of the best triple-A developers in gaming today.  This has game of the year potential and releasing in early September instead of the deathtrap that is October and November will be beneficial regarding its sales.  It joins God of War and Detroit Become Human as the biggest titles launching this year for the PS4.
I'm looking forward to Game Informer's continued coverage as they generally do an outstanding job when giving impressions or previews.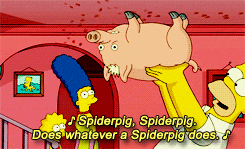 Question is…where is Spider-Pig?