NBA draft classes for the past couple of years have been suspect. There's always one maybe two stars and plethora of prospects that will never make an impact.
Thankfully, this year brought a welcome change.
With the exception of the number one pick Markelle Fultz, who the Sixers mishandled for whatever reason, this has been a really deep class. In the first round, regardless of selection position, there are at least 13 players who could be All-Stars. That is ridiculous when you think about last year's draft class and really only Ben Simmons projected to be an All-Star. Each of these rookies have been serious contributors for their respective teams and it looks like they'll be mainstays in the league for the foreseeable future. Let's highlight a few of these rookies:
Lonzo Ball (No. 2)
Now, before you scoff, forget about the fact that Lonzo has one of the worst jumpers you've ever seen and that he is posting one of the worse shooting seasons in recent memory. This kid can ball, he is a wizard when it comes to distributing. Bounce pass, tip pass, you name it and Lonzo has done it. He is a good rebounder for his position, he's averaging around 7, and he has been fairly decent on defense. The bad reputation mainly comes from his father, but Lonzo has been shown flashes of stardom. Is he the next Magic? No, but look for him to become more attuned to the NBA next season, he might just mess around and be a league leader in assists.
Jayon Tatum (No. 3)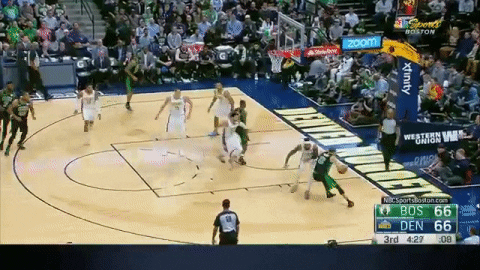 I'm a Celtics fan, but even if I wasn't, Jayson Tatum is phenomenal. He was a steal at number 3 and the rook has proven to be far more skilled than initially expected. At Duke, he was an isolation heavy player and there were questions as to whether or not he could adapt to Brad Steven's ball movement system. Sufficed to say, Tatum has fit right in and even though fans want him to be more assertive, he is the rare high draft pick who understands his role on a team with championship aspirations. It's also refreshing that he's been excelling on the defensive end, he's had highlight steals and blocks all year long. Peg Tatum as a potential perennial All-Star if he stays healthy and continues to develop.
Lauri Markkanen (No. 7)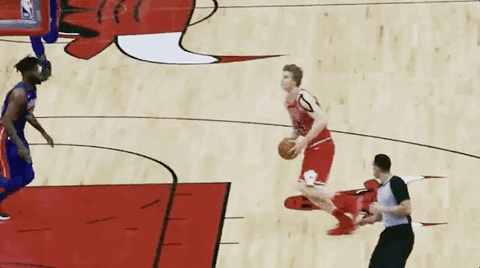 Count me as one of those individuals who is pleasantly surprised about Markkanen. Not only has his shooting translated from college, but he is surprisingly athletic and a willing defender. Labelled as soft by most NBA scouts, he has quickly changed the narrative by not being afraid to take on contact when heading to the rim or when he is playing down low in the post. He already has a few highlight-reel dunks and count me as one of those who have completely changed their mind about his ceiling. Chicago has a player that they can build around alongside Zach Lavine, this may make the rebuild currently happening in the Windy City a short one especially if they nail the 2018 draft.
Dennis Smith Jr. (No. 9)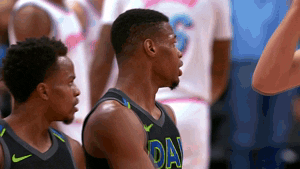 Dubbed as a mini-Westbrook, DSJ is a player who is supremely athletic and fearless. Some of the best dunks this season are of him slipping in through the lane and rising up to throw down a monster slam. Seriously, this kids hops are insane, the speed at which he elevates throws defenders off because he plays at a fairly slow pace with the ball in his hands. While he struggles with his shot selection can be fairly turnover prone, he has been one of the lone bright spots on a lowly Mavericks squad. If he develops his jumper and plays with more control, be on the lookout for DSJ. That is of course, if he isn't putting you on a poster.
Donovan Mitchell (No. 13)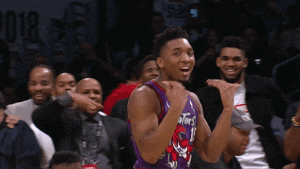 Who the hell thought it was a good idea to pass on Donovan Mitchell? Not only as he been the biggest surprise of the Draft class, but whatever projections people had for him should be trashed. The Utah Jazz shouldn't be in the mix for the playoffs, their roster turnover at the beginning of the year should've been more than they could overcome. But Mitchell has led the surge for the Jazz and they look like there are playoff-bound. This year was supposed to be a rebuild, but don't tell Mitchell as he has put on some of the best performances of the year. Two 40 point games, multiple 30 point games, the rook is a walking highlight and should be Rookie of the Year. Just don't tell him that, he's far too humble to even recognize just how special he is.
John Collins (No. 19)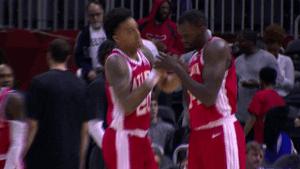 If you weren't aware, John Collins wants to put players on a poster. An athletic freak, Collins has been one of the best surprises in this rookie class. While the Atlanta Hawks have been dreadful, you can always find solace in a John Collins highlight. Alley-oops, hard takes to the basket, this young man has bad intentions when he attacks and shows absolutely no fear. He could be a better rebounder and seriously needs to develop some semblance of a jumpshot, but for now, just sit back enjoy the show. It's the only thing worth watching on the Hawks.
Kyle Kuzma (No. 27)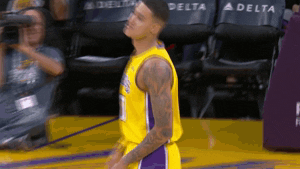 Someone report the Lakers for theft, because Kuzma is an absolute steal. One of the best pure offensive players in this year's draft class. Kuzma is a killer, hyper-aggressive with a developed offensive game, there was absolutely no reason for him to be drafted at the tail-end of the first round. Not only is he one of the best rookies to watch, his energy has been infectious. This young Lakers squad as a whole have been a surprise this season and as it stands right now, Kuzma is the best rookie on the squad, not Lonzo. Now, if he could only do something about his porous defense, because once that improves, he'll become the best version of himself.
While I have glossed over a few players, such as Bam Adebayo and De'Aaron Fox, this list highlights the players who have really stood out throughout the course of the season. There hasn't been a class since 2003 that feature's this many intriguing prospects with high floors and even higher ceilings. The NBA needed an influx of young and promising talent to challenge the old guard.
Here's to the future.