It wasn't all sunshine and rainbows for Marvel in the 80's and 90's. Every attempt at adapting one of their properties into a movie or television show failed. They weren't just bad, they were practically parodies of respected comics. Go ahead and take a gander at the Fantastic Four or Captain America, both were just hilarious and that was never their intention. Marvel desperately needed a win, they needed to be able to adapt one of their properties successfully to the big screen.
Who would've guessed that it would've been Blade?

For the unaware, Blade is one of the more obscure Marvel properties. The titular character is a half vampire, half human hunter, who goes about taking on the various supernatural enemies in the Marvel universe. As it stands Blade is the polar opposite of the Marvel movies seen today in the MCU, It was dark, vio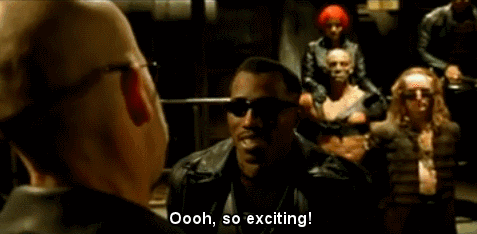 lent, and grotesque. Surprisingly, it was a commercial success and served as an early showcase that comic book movies could be successful with the right direction. Marvel finally had a foundation in which it could launch its brand. It all started with the Blade series.
Blade II was better than the first. Point blank, there really is no need for debate. Helmed by Guillermo Del Toro, who would later on win an Academy Award for the phenomenal The Shape of Water, it was bigger and gorier and featured what was at the time, some of the most satisfying actions scenes that movies could offer. It built on the premise of the original, it featured more Wesley Snipes one-liners, a new vampire mutation, and Ron freaking Perlman. Hint to all movies, feature Ron Perlman, it instantly makes the movie better. Best of all for Marvel, Blade II was also a commercial success.   It really felt that Marvel had found something, all of it in its one of lesser known characters. Things were starting to look up.
Then Blade Trinity showed up and literally cratered the entire series. To say that Bl

ade Trinity is awful is a stretch, it's still kind of fun, but tonally, it feels like a different movie than its predecessors. It's almost as if the director didn't realize the movie was supposed to be dark and edgy like its predecessors because the whole film feels sarcastic in tone. Ryan Reynolds is a highlight as he is in most films, but even he wasn't enough to save this mess of a film. Out of the three films, it's the least re-watchable and after writing this, I probably won't revisit the film anytime soon. It was a rather unfortunate end to a solid franchise especially because Blade Trinity was also commercially successful. This mostly comes as a surprise because it was met with negative critical reviews.
People tend to remember what came after Blade because recent films represent what Marvel is today. Franchises like X-Men and the Avengers owe a lot the Blade trilogy even though at first glance it doesn't seem like your typical superhero film. People will tend to credit Deadpool as Marvel's first Rated R hit, when Blade did well for itself with such a modest budget. Black Panther is erroneously credited as one of the first black superhero films, when Blade was one the first to represent on the silver screen. It was by no means a perfect series, but it was fun at a time where comic book movies needed a lift.
Blade acted as a launching point for Marvel, unfortunately as Wesley Snipes once put it: