No one would blame you if you never got around to watching Justified.  There were far more popular shows on TV, such as Breaking Bad, The Walking Dead, and Game of Thrones.  Regardless of its lack of popularity, Justified was simply awesome.  The writing was sharp, the character diverse and interesting, and it never produced a bad season.   On the surface it appeared to be just another police procedural, but it was a writing tour-de-force and should be appreciated.
While US Marshall Raylen Givens acts as the series protagonist, Justified also followed career criminal and Raylen's former friend Boyd Crowder and his on and off again flame Ava Crowder.  In every season, it seemed that they couldn't escape one another, no matter how much each of them tried.  The show begins with Raylen's reassignment to Lexington, Kentucky due to him publicly shooting a criminal at a lavish Miami hotel.  What upsets him the most is that part of his assigned area of operations is his hometown of Harlan.  From there the wheels practically fall off and the fates of all three characters are seemingly forever intertwined.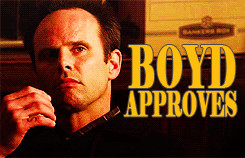 I would be remiss if I didn't speak about the writing as Justified is an incredibly sharp and fun show.  It seems that every season, established characters adjust their motivations because of the various conflicts that take place during the show.  While the primary motivation for every criminal organization is power, Justified does an excellent job of making those organizations and their inner workings fascinating.  Every time a primary antagonist is introduced, they immediately standout.  From the brilliant and charming Mags Bennett to the cool unhinged nature of mobster Robert Quarles, Justified has created some of the best antagonists on television.
Running for 6 seasons in the shadows of far more popular shows is no easy feat.  But I'm glad that Justified did.  It's series finale is one of the best in recent memory and stands firmly next to the endings Breaking Bad and The Shield.  Raylen Givens and Boyd Crowder's story was one of the most captivating relationships on TV as their friendly yet contentious interactions would leave the viewer on the edge of their seat.  Seriously, the tension created just by a conversation between the two of them is must-see TV.  It is a tribute to Timothy Olyphant and Walton Goggins as their chemistry was one of the best on TV.
Network FX has a catalogue of hit shows that are both popular and critically acclaimed.  The unfortunate part is that a lot of their shows, such as The Americans and Fargo, go underappreciated.  Justified also falls into this category and to be honest, it isn't justified.